The COVID-19 pandemic has tragically led to some patients experiencing severe acute illness, hospitalisation and even death. Beyond the health of those affected, it has had widespread economic, psychological and societal effects. The range and severity of symptoms arising from the virus is broad, from those with no or minimal symptoms, to severe pneumonia in 15-20 per cent of cases, with evidence of widespread disease beyond the lungs, including the heart and circulatory system, kidney damage and effects on the brain. It is important to obtain more information and understand the long-term effects of COVID-19 and the ongoing medical, psychological and rehabilitation needs of these patients.
Purpose of the study
This study looks at how different patients recover from COVID-19, a condition caused by a type of virus called SARS-CoV-2, or coronavirus for short.
As COVID-19 is a new disease, this study aims to identify whether there are longer-term health problems of COVID-19 for those who were hospitalised.
We want to understand:
why some people recover more quickly than others
why some patients develop other health problems later on
which treatments received in hospital or afterwards were helpful
how we can improve care of patients after they have been discharged from hospital.
Finally, we want to develop a data resource that other research teams can use to answer their questions quickly to further improve health outcomes in future. This will make the best use of the time, clinical information and samples participants provide.
Study design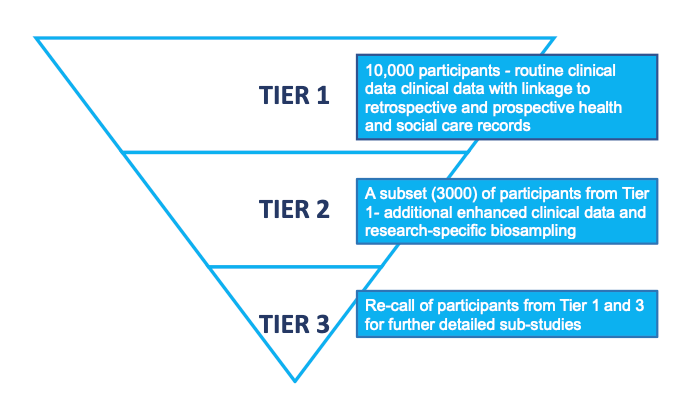 As a basis, we will collect and analyse routine clinical data (e.g. blood test results, lung volume measurements) for all participants (tier 1)
At some sites we will collect enhanced clinical data, such as taking samples to look for the presence or absence of specific molecules, also known as biomarkers; we may also link to other medical records, such as those held in primary care (tier 2)
We will re-call some participants with particular disease characteristics to take part in sub-studies (tier 3)
Research network
The PHOSP COVID study is a national consortium, led by experts at the University of Leicester and University Hospitals of Leicester NHS Trust under the umbrella of the NIHR Leicester Biomedical Research Centre, seeks to investigate the long terms impacts of COVID-19 on the health outcomes for patients who were hospitalised due to the virus.
The data that is collected during the study will also be used globally, collaborating with consortia in Europe (European Respiratory Society) and Canada (Canadian Thoracic Society), to understand the long terms impacts of COVID-19 on health worldwide.
We have established a national stakeholder group through the NIHR Respiratory Translational Research Collaborations (TRC) in collaboration with the Scottish, Welsh and Northern Ireland COVID-19 networks, as well as the NIHR Mental Health TRC, HDR-UK Respiratory Digital Innovation Hub (BREATHE), SAIL Databank, CRN Specialty Group (Respiratory) and ISARIC/RECOVERY consortia.